There comes a moment in every docent's career, no doubt, when a skeptical patron fails to imbibe the proffered program, the curatorial equivalent of a heckler.
Charleston Farmhouse at least has the means to station a different guide in every room rather than yoke hapless volunteers to the caprices of various groups who take the tour, short though it is, of the Bloomsbury Group's country headquarters. A "good size" by most any family's standards, it is still just a handful of rooms downstairs and up, big enough for four adults, their revolving cast of lovers, and the few heathen children which resulted.
One can only pretend surprise to the same salacious scandal from each docent in their respective rooms for so long: Yes, yes, Angelica Bell married her father Duncan Grant's former gay lover, Bunny, fulfilling his own ridiculous prophecy at her cribside that he would someday marry "it."
Visitors unfamiliar with Bloomsbury lore might clutch their pearls, but I ruined the delivery of this same punchline for the third time in a day when I interrupted across the salon at the very moment.
"Who painted this picture?" The matron of the room was not amused.
"That is by Vanessa Bell," she said through curdled lips.
Reluctantly, she explained the restrained still life of poppies and vessels came prior to the Bloomsberries' interest in Post-Impressionism and the later abstracted style for which they were most well known. But, there was of course a story.
"The poppies—two white, one scarlet—are thought to depict the Bells themselves," she pronounced archly, "and Mrs. Bell's sister, with whom her husband was having a flirtation in a fit of jealous abandonment after the birth of their first son, Mrs. Bell's focus naturally having turned toward motherhood." (HaHa! Mrs. Bell's sister, 'The Temptress.') "It is thought she imbued in this still life her feelings about the dalliance, and so: the medicinal jar, the vial. The poison cup." [BOLD ITALICS MINE]
"Poison cup?!" I exclaimed. The lady cast a serpentine gaze. "Is that really a thing, a 'poison cup'…?"
"I beg your pardon?"
"Well, is there even such a thing as a poison cup? Or is it just a cup that could have poison in it? Did she say it was a poison cup? Meant for the adulterers? Or is that your, you know, docent's patter?"
I really did want to know! It sounded practically Florentine, this "Poison Cup"—or Borgian. Where could one get a poison cup? Did they still make them? Could one just waltz into The Poison Cup Shoppe and ask to be shown one, or was there some sort of password? ASPIRING NOVELISTS NEED TO KNOW!
The lady frowned. "I imagine there has been some scholarship on the subject," she averred, and to my evident disappointment she asked, "Why?"
"I think I need one."
"And what would you do with it?"
"Daydream."
Our group was ushered promptly from the room.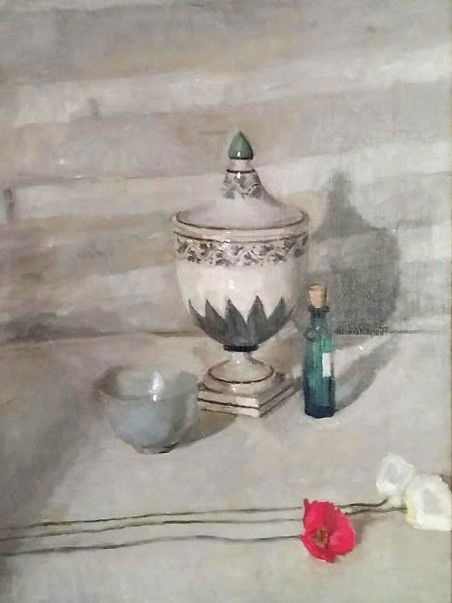 "Iceland Poppies" by Vanessa Bell, 1908-09